Charity Barnum is one of the main characters in the movie The Greatest Showman, and is the wife of P.T Barnum.
Biography
She was first introduced in the movie, when P. T. Barnum saw her when she was taught how to drink a tea gracefully, however Charity ends up laughing and makes her dress dirty. Her father who found out, was very angry at her, but Barnum apologised to her father making her father slapping him and they were separated.
Charity was sent to a finishing school, however they kept in touch by sending letters to each other. Until they grew up they ended up getting married and have two children Caroline (the first) then Helen (the second).
They lived in a humble life, Charity is pleased, however Barnum is dissatisfied.
When Barnum gets to reaches his dreams, Charity was supportive and told him not everybody should love him only the good people should.
Charity and Barnum were separated when she read a news headline were Barnum was caught kissing with Jenny Lind. Charity was heartbroken, she brought her 2 daughters together to their old home.
Charity met her estranged husband once more again and their relationship was mend.
Quotes
I wish for happiness like this forever.
You don't need the whole world to love you, just a few good people.
Gallery
Images of
Charity Barnum/Gallery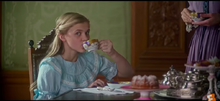 Community content is available under
CC-BY-SA
unless otherwise noted.